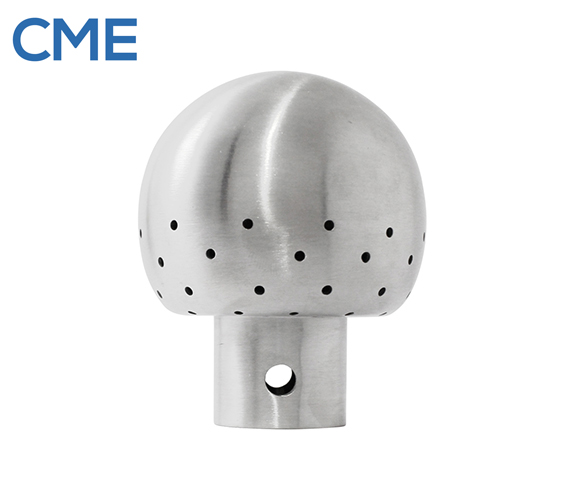 Sanitary Cleaning Ball
Sanitary spray ball is used to assist the efficient cleaning of storage tank or piping.  
It allows the tank to be cleaned by dousing the interior/exterior surface with high-velocity jets of water or chemicals. This process is generally called Clean-In-Place or CIP.
Some factors are needed to be considered for cleaning work such as the coverage of the spray balls, pressure, the water temperature and the cleaning solutions.
The flow rate of spray ball is divided by the number of holes.  The more holes there are, the lower flow rate.  Therefore, the low flow rate could not create the impact or large force to clean the tank sufficiently due to the less powerful spray. 
Spray type:  fixed (static), spinning (rotary)
Spray pattern (coverage):  1800 and 3600
Suggestion:  the spray ball is suggest installing above the maximum product level in the tank.
l  Size range:  3/4" ~ 2"
l  Roughness:  satin or mirror-like finish OD
l  Stainless steel material:  304ss, 316L