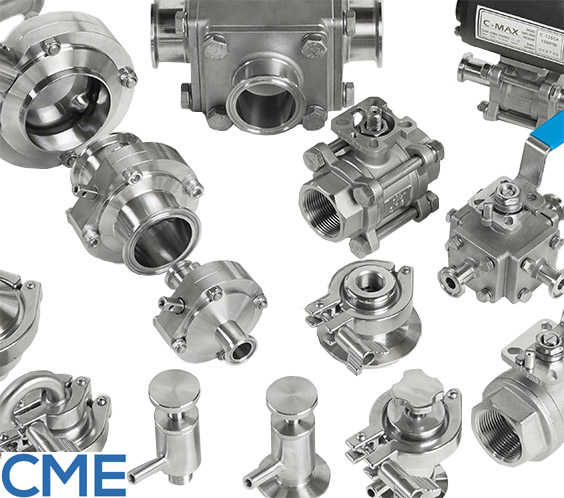 Sanitary Valves
Sanitary valves are a type of valves that is specifically designed and constructed for use in applications where hygiene and cleanliness are critical. 
Sanitary valves are designed for easy cleaning and sanitizing, often featuring quick-disconnect fittings and other features that facilitate thorough cleaning.
Sanitary Valves Description:
Sanitary valves are commonly used in the food and beverage, diary, distillery industries, as well as in other industries that require strict adherence to sanitary and hygienic standards.
The CME sanitary valves are
1. Made in material 316L with a standard finish of 32Ra maximum on media contact surface.
2. All sanitary valves are fully inspected with Niton analyzer from raw material to finished parts.
3. All the rubber and plastic seals used in the sanitary valves are FDA compliance.  
4. Each valve will be 100% tested with water pressure before shipping. 
Due to the different requirements in the working environment, CME provides a variety of seal materials for our sanitary valves to fulfill all applications with a hygienic design.