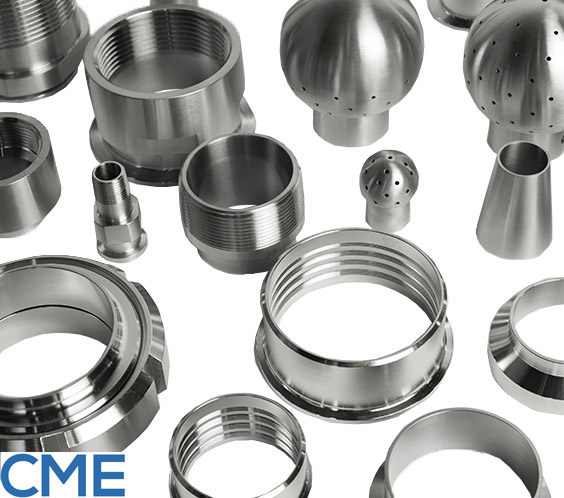 Sanitary Fittings
Sanitary Fitting Application:
Sanitary fittings and piping are mainly used in the food & beverage and biopharmaceutical industries.
Sanitary Fitting Description:
It was developed for use in applications requiring clean ability by either manual cleaning or CIP (cleaning in place) system.
Most sanitary fittings are made in material stainless steel 304 or 316L and are measured in tube OD while size ½" to 4" are the most commonly available sizes. 
Easy assembly and disassembly with no tools to make the maintenance and monitoring the pipe lines in a proper way.
CME offers a variety of sanitary fittings from ferrules to elbows. Each of sanitary fittings is 3-a certified as number 1797 with no pockets, threads, or tight radii.
Material certificates will also be provided along with the parts. 
Sanitary Fittings related to:  Sanitary Ferrules, Sanitary Clamps and rubber gasket.
● Sanitary Fittings Size range:  1/2" ~ 12".
● Sanitary Fittings Roughness:  Ra 0.8μm (Ra 32μinch).
● Stainless steel material:  304ss, 316L.
● Gasket : EPDM , Silicone , FKM , PTFE.